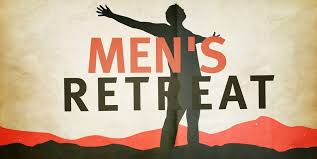 Men's Retreat Reflection - Swimming or going with the flow
Posted by Joel Gilbert on
Did you ever watch the TV show "Laverne and Shirley?" I know, I'm showing my age. Actually, as a child, I never really liked it, but there is an image in the opening credits that came to my mind this weekend at the Men's Retreat. Laverne and Shirley are working in a factory where bottles are moved along conveyors. At some point in time, a glove ends up on one of the bottles and is swept up in the flow of the rest of the bottles. The gloved-bottle has become a part of something much bigger than itself.
This weekend, several of the men from the church went to Skycroft Retreat and Conference Center for a weekend to be refreshed and challenged. While the lack of sleep worked against the refreshing, the weekend was both spiritually refreshing and challenging.
To some degree, I felt a bit like that gloved-bottle in Laverne and Shirley's opening credits. No, I did not have a glove on my head, but I did feel like I was swept up into something that I was not anticipating, something bigger than myself, something God-ordained. I have often even felt that as I was being swept up, I was facing the wrong direction, and even trying to work against what was happening in me, to me, around me.
As we discussed Intentional Living, based on John Maxwell's book by the same title, it became readily apparent that I was exactly where I NEEDED to be, whether or not I WANTED to be there. Not unlike Saul who was knocked off of his horse and blinded in order to get pointed in the right direction (Acts 9:1-19), God used a weekend to start the turning around process for me.
As I stopped trying to swim the other way and began to allow the Spirit to move in me and instruct me through the events of the weekend, I began to notice that God is doing a good work in the men of FBC. I began to learn that it's ok if people lead and organize things differently than I would (in fact the team that put this together did far better than I would have ever done). I began to learn that I can look forward to the unexpected opportunities/challenges that God places before me.
Over the next several weeks, I hope to have several of the men write some reflections from their retreat weekend. Stay tuned for their thoughts.
In the mean time, I'm going to work on doing a better job to work with the Spirit of God in order to anticipate what He has in store. Are you working with Him or against Him? May we as the body of Christ move willingly into all that God is calling us to.