Feb 20, 2022 | Lee Becknell
Raising your Children for Success
Sermon Series on Relationships: Since February is the month of Valentine's Day we are going to look at four types of relationships: 1. A God centered marriage. 2. Minimizing stress in the home. 3. Raising your children for success. 4. Strengthening your relationship with God.
* I read a story recently about three ladies who were sitting around and bragging about their children. The first one said, "You know my son, he graduated first in his class from Stanford, he's now a doctor making $250,000 a year in Chicago."
The second woman said, "You know my son, he graduated first in his class from Harvard, he's now a lawyer making half a million dollars a year and he lives in Los Angeles."
The last woman said, "You know my son, he never did too well in school, he never went to any university but he now makes 1 million dollars a year in New York working as a sports repairman."
The other two women ask, "What is a sports repairman?"
She replied, "He fixes hockey games, football games, baseball games..."
* Obviously parents want their kids to succeed. We want our kids to grow up to be responsible self-sufficient adults who are capable of taking care of themselves.
Text: 1 Samuel 1:24-28
Title: "Raising your Children for success."
Theme: "God did not authorize the state to raise children. And God did not authorize day care centers, schools, and institutions to raise kids. God authorized Mommies and Daddies to raise kids! Yes, we make mistakes and are not perfect. But we need to realize if we don't do it, someone else will. According to the Scriptures, according to God, a parent's responsibility is not to make the child happy but to impart character that is pleasing to our Heavenly Father."
* This morning, I want to look at two families that raised their children to be successful in life. One will become God's prophet and the other a Queen.
Successful men and women usually have parents who pray for them.
1 Samuel 1:9-13, "After they had eaten and drunk in Shiloh, Hannah rose. Now Eli the priest was sitting on the seat beside the doorpost of the temple of the Lord. 10 She was deeply distressed and prayed to the Lord and wept bitterly. 11 And she vowed a vow and said, "O Lord of hosts, if you will indeed look on the affliction of your servant and remember me and not forget your servant, but will give to your servant a son, then I will give him to the Lord all the days of his life, and no razor shall touch his head." 12 As she continued praying before the Lord, Eli observed her mouth. 13 Hannah was speaking in her heart; only her lips moved, and her voice was not heard. Therefore Eli took her to be a drunken woman."
* Beloved, there is no magic formula for helping your children become successful happy adults. Each child has their own will and must make their own decisions how they will live. But we can teach them God's word and model a life worthy to copy.
* The Bible talks about how important it is for us to Manage our Families well. In I Timothy, the Apostle Paul gave guidelines for church leaders.
1 Timothy 3:4-5, "He must be one who manages his own household well, keeping his children under control with all dignity (but if a man does not know how to manage his own household, how will he take care of the church of God?)" We should all seek to be like Elders!
* Beloved, we know the story of Samuel how Hannah prayed to have a child. The translation of Samuel (sometimes spelled "Samual" when spelled in the English alphabet) literally means "name of God," or "God has heard."
* In the story of Ester we find that her mother and father had died and she was raised by her uncle Mordecai.
Esther 2:15, 20; "15 When the turn came for Esther the daughter of Abihail the uncle of Mordecai, who had taken her as his own daughter, to go in to the king, she asked for nothing except what Hegai the king's eunuch, who had charge of the women, advised. Now Esther was winning favor in the eyes of all who saw her. 20 Esther had not made known her kindred or her people, as Mordecai had commanded her, for Esther obeyed Mordecai just as when she was brought up by him."
Ephesians 6:4, "4 Fathers, do not provoke your children to anger, but bring them up in the discipline and instruction of the Lord. Bring them up in nurture and admonition of Lord.
Esther 5:15-17; "15 Then Esther told them to reply to Mordecai, 16 "Go, gather all the Jews to be found in Susa, and hold a fast on my behalf, and do not eat or drink for three days, night or day. I and my young women will also fast as you do. Then I will go to the king, though it is against the law, and if I perish, I perish." 17 Mordecai then went away and did everything as Esther had ordered him.
* In these verses we get a glimpse of how Esther was raised. When crisis arose it was Ester that asked Mordechai and all the Jews to fast for her. Fasting and praying we all part of the Jewish life.
Matthew 6:16-18; "And when you fast, do not look gloomy like the hypocrites, for they disfigure their faces that their fasting may be seen by others. Truly, I say to you, they have received their reward. But when you fast, anoint your head and wash your face, that your fasting may not be seen by others but by your Father who is in secret. And your Father who sees in secret will reward you.
* Fasting is a way to humble yourself in the sight of God.
Ezra 8:21, "There, by the Ahava Canal, I proclaimed a fast, so that we might humble ourselves before our God and ask him for a safe journey for us and our children, with all our possessions."
Successful men and women usually have parents that know their children belong to God.
1 Samuel 1:25-28, "And when she had weaned him, she took him up with her, along with a three-year-old bull, an ephah of flour, and a skin of wine, and she brought him to the house of the Lord at Shiloh. And the child was young. 25 Then they slaughtered the bull, and they brought the child to Eli. 26 And she said, "Oh, my lord! As you live, my lord, I am the woman who was standing here in your presence, praying to the Lord. 27 For this child I prayed, and the Lord has granted me my petition that I made to him. 28 Therefore I have lent him to the Lord. As long as he lives, he is lent to the Lord."
* The word "weaned" refers to a period of time for a child in ancient Israel extending to about 3 years, and when it was finished the child was mature enough to be entrusted to strangers (1Sam.1:24).
* Lent does not mean to give temporarily, but to give unconditionally in dedication to the Lord. Hannah gave up what she cherished and wanted most. Her son and she presented him to Eli to serve in the house of the Lord.
* Your children are not your toys to play with and enjoy life with. They belong to God and when you give your child back to God, you are openly declaring that: 1) This child is a gift from God. 2) This child does not really belong to you. 3) This child belongs to God. 4) You are committing to teaching them the ways of God.
Psalm 127:3-5, "Behold, children are a heritage from the Lord, the fruit of the womb a reward. 4 Like arrows in the hand of a warrior are the children of one's youth. 5 Blessed is the man who fills his quiver with them! He shall not be put to shame when he speaks with his enemies in the gate."
* Have you ever given your children back to God? Some of you may be thinking why should I? This kid is mine and I have the sole ownership. If you don't believe it, I'll show you their 'Birth Certificate.' It has my name on it to prove that I am the parent. Sermon in a Sermon: Samuel makes the same mistakes with his sons as Eli did!
* When You Give Your Child Back to God you are blessing your family for a 1000 generations.
Exodus 20:5-6, "for I, the LORD your God, am a jealous God, punishing the children for the sin of the fathers to the third and fourth generation of those who hate me, but showing love to a thousand generations of those who love me and keep my commandments."
Esther 4:13-14, "13 Then Mordecai told them to reply to Esther, "Do not think to yourself that in the king's palace you will escape any more than all the other Jews. 14 For if you keep silent at this time, relief and deliverance will rise for the Jews from another place, but you and your father's house will perish. And who knows whether you have not come to the kingdom for such a time as this?"
* Beloved, the book of Esther is only ten chapters long. Let me encourage you to read it this week and see how this young lady grows up to be a wonderful queen.
Successful men and women usually have parents who teach them to hear God.
1 Samuel 3:1; "Now the boy Samuel was ministering to the Lord in the presence of Eli. And the word of the Lord was rare in those days; there was no frequent vision.
* Beloved notice two important things in this verse; 1. The word of God was rare and 2. There had been no vision from God. Both will change with Samuel.
* Of all the things you can teach your children, I believe this is absolutely the most important. You must teach them how to hear God speak truth into their lives.
1 Samuel 3:3-11, "The lamp of God had not yet gone out, and Samuel was lying down in the temple of the Lord, where the ark of God was. 4 Then the Lord called Samuel, and he said, "Here I am!" 5 and ran to Eli and said, "Here I am, for you called me." But he said, "I did not call; lie down again." So he went and lay down. 6 And the Lord called again, "Samuel!" and Samuel arose and went to Eli and said, "Here I am, for you called me." But he said, "I did not call, my son; lie down again." 7 Now Samuel did not yet know the Lord, and the word of the Lord had not yet been revealed to him. 8 And the Lord called Samuel again the third time. And he arose and went to Eli and said, "Here I am, for you called me." Then Eli perceived that the Lord was calling the boy. 9 Therefore Eli said to Samuel, "Go, lie down, and if he calls you, you shall say, 'Speak, Lord, for your servant hears.'" So Samuel went and lay down in his place. 10 And the Lord came and stood, calling as at other times, "Samuel! Samuel!" And Samuel said, "Speak, for your servant hears." 11 Then the Lord said to Samuel, "Behold, I am about to do a thing in Israel at which the two ears of everyone who hears it will tingle."
* We are reminded again of Eli and what he taught young Samuel. However, I realize that most Christians cannot teach their kids how to hear God because most Christians never hear God either. Before you can teach them how to hear, you've got to learn how to hear.
* If you want to get better at hearing God then read your Bible and pray every day.
* The Old Testament is full of families that showed favoritism to their children. Love each child the same and teach them to listen for the Lord.
* Samuel becomes a priest, he was a Nazarite, a prophet. He was the last Judge of Israel because he anoints two kings for Israel. He is the only ghost we find in the Bible.
* Ester becomes a great queen of Persia. She finds favor in the eyes of the kingdom. She set the celebration of Purim for the nation of Israel. To this day the nation of Israel honors Esther by celebrating Purim (Esther 9:32).
In Yorkshire, England, during the early 1800s, two sons were born to a family named Taylor. The older one set out to make a name for himself by entering Parliament and gaining public prestige. But the younger son chose to give his life to Christ. He later recalled, "Well do I remember, as in unreserved consecration I put myself, my life, my friends, my all, upon the altar. I felt I was in the presence of God, entering into covenant with the Almighty." With that commitment, Hudson Taylor turned his face toward China and obscurity. As a result, he is known and honored on every continent as a faithful missionary and the founder of the China Inland Mission (now known as Overseas Missionary Fellowship). For the other son, however, there is no lasting monument. When you look in the encyclopedia to see what the other son has done, you find these words, "the brother of Hudson Taylor."
1 John 2:17, "17 And the world is passing away along with its desires, but whoever does the will of God abides forever."
Series Information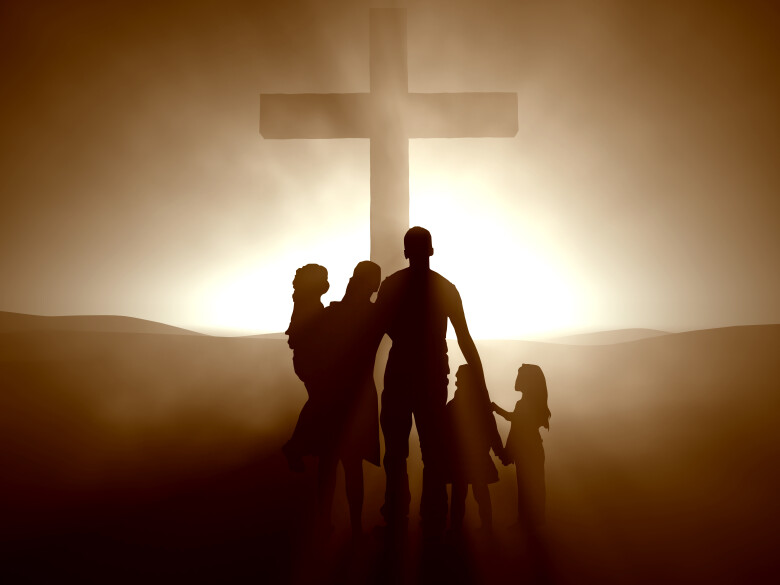 Sermon Series on Relationships: Since February is the month of Valentine's Day we are going to look at four types of relationships: 1. A God-centered marriage. 2. A happier home. 3. Raising your children for success. 4. Strengthening your relationship with God.