Oct 04, 2020 | Lee Becknell
When a nation no longer fears the judgment to come on the Lord's Day it will not be long before Justice begins to fail in that country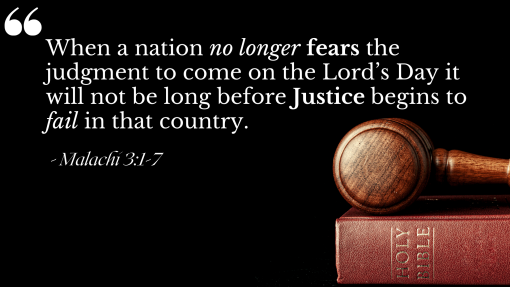 * A Woman asked a silver smith, "How do you know when the silver is fully refined?" He smiled at her and answered, "Oh, that's easy when I see my image in it."
Title: "When a nation no longer fears the judgment to come on the Lord's Day it will not be long before Justice begins to fail in that country."
* No such thing as Social Justice. Justice is Justice!
Theme: "We are impure by nature and by practice. But God will have no alloys in heaven. "Blessed are the pure in heart, for they shall see God." And yet He will have someone in heaven. He will have a redeemed people. His banquet hall will be full. And therefore He must be a refiner's fire. If He were only a forest fire, heaven would be empty. If He were only an incinerating fire, heaven would be empty. And if He were no fire, heaven would be empty. Will you be ready for the 'Day of the Lord'?"
* And worst of all they no longer were waiting for His arrival. As a nation they were no longer looking for the Messiah to come.
* The command 'prepare the way' is still in effect today. God's children are called to prepare for His second coming.
* This morning, I would like to share with you the following lessons.
We should be looking for Jesus.
Malachi 3:1, "Behold, I send my messenger, and he will prepare the way before me. And the Lord whom you seek will suddenly come to his temple; and the messenger of the covenant in whom you delight, behold, he is coming, says the Lord of hosts."
* Three individuals are mentioned here in verse one. The first individual mentioned is "I"—"Behold, I send . . . " This "I" is identified at the end of the verse: "Says the Lord of hosts." The speaker is Jehovah, God the Father.
* The second individual mentioned is Jehovah's messenger who prepares the way. "Behold, I send my messenger to prepare the way before me." Who is this? Well the New Testament quotes this very verse to identify John the Baptist, the one who came to prepare the way for Christ.
* Jesus revealed to His three closet disciples that John the Baptist was indeed the one about whom it was prophesied in Malachi 3:1 and 4:5.
Matthew 17:12-13, "But I tell you that Elijah has already come, and they did not recognize him, but did to him whatever they pleased. So also the Son of Man will certainly suffer at their hands." 13 Then the disciples understood that he was speaking to them of John the Baptist.
Acts 1:11, "and said, "Men of Galilee, why do you stand looking into heaven? This Jesus, who was taken up from you into heaven, will come in the same way as you saw him go into heaven."
Malachi 3:1, "…And the Lord whom you seek will suddenly come to his temple;" 'Suddenly' means "unexpected."
Mat 24:44 Therefore be ye also ready: for in such an hour as ye think not the Son of man cometh
* Beloved, just as the people in the day of Malachi were supposed to be looking for the Messiah we are to be looking and living for the return of the Messiah Jesus Christ.
* The third individual mentioned in verse 1 is "the Lord who comes to his temple."
* So we can conclude that the messenger of the covenant, the Lord, the owner of the temple of God, is none other than the Son of God, who is with God and is God, and who came into the world and made himself known to us personally in Jesus Christ.
Who can endure the Day of the His coming.
Malachi 3:2-4, "But who can endure the day of his coming, and who can stand when he appears? For he is like a refiner's fire and like fullers' soap. 3 He will sit as a refiner and purifier of silver, and he will purify the sons of Levi and refine them like gold and silver, and they will bring offerings in righteousness to the Lord. 4 Then the offering of Judah and Jerusalem will be pleasing to the Lord as in the days of old and as in former years.
* Malachi wanted to remind them that God was coming, not only to rescue and redeem them but to examine their hearts and lives. Malachi and others called this "coming" the "Day of the LORD".
* The "Day of the LORD" was this time when the LORD GOD ALMIGHTY would appear and would bring justice to the earth.
* We Need to Be Refined. We were created in the image of God with the potential to reverence God and trust Him and obey Him and glorify Him, but we were born in iniquity and in sin did our mothers conceive us. We are shot through with the impurity of rebellion and unbelief, and we fall short of God's glory again and again.
* The refiner knew that if they could reveal the true nature of the metal be it copper, silver or gold that it would be both beautiful and extremely valuable. All they had to do was make it possible for the true essence of the metal to come to the surface.
1 Peter 1:6-7, "6 In this you rejoice, though now for a little while, if necessary, you have been grieved by various trials, 7 so that the tested genuineness of your faith—more precious than gold that perishes though it is tested by fire—may be found to result in praise and glory and honor at the revelation of Jesus Christ."
* Beloved, God comes as a refining fire not a forest fire.
Malachi 3:6, "For I the Lord do not change; therefore you, O children of Jacob, are not consumed."
* If you could get rid of your own sin, you would need no refining. Refining is for sinners!
* Trust the goodness of God. Believe that his ways are the ways to infinite joy. Don't doubt his expertise as a Refiner.
* Notice as well that that along with refining you have the washing of the fuller's soap. The fuller's soap is like laundry soap you use to clean your clothes each week.
* The Scripture does teach that we can work on our spiritual life as well.
Matthew 5:29–30, "If your right eye causes you to sin pluck it out . . . and if your right-hand causes you to sin, cut it off and throw it away."
1 Corinthians 9:27, "I pommel my body and subdue it."
Romans 8:13, "If by the Spirit you put to death the deeds of the body you will live."
* The way to experience the fire of Christ as refining and not consuming is to trust his promise to bring us through the fire to endless joy. Salvation is by grace through faith in the purifying mercy of God.
A day of judgement is coming and for non-believers it will be a consuming fire.
Malachi 3:5-7, "Then I will draw near to you for judgment. I will be a swift witness against the sorcerers, against the adulterers, against those who swear falsely, against those who oppress the hired worker in his wages, the widow and the fatherless, against those who thrust aside the sojourner, and do not fear me, says the Lord of hosts.6 "For I the Lord do not change; therefore you, O children of Jacob, are not consumed. 7 From the days of your fathers you have turned aside from my statutes and have not kept them. Return to me, and I will return to you, says the Lord of hosts. But you say, 'How shall we return?'
* This is not the work of refinement, but the final judgment of condemnation. It is ever clearer in 4:1, "For behold, the day comes burning like an oven, when all the arrogant and all evildoers will be stubble; the day that comes shall burn them up, says the LORD of hosts, so that it will leave them neither root nor branch."
* Notice there are two groups here the children of Jacob and then the sinners listed in 3:5.
* God's accounts are so carefully kept that, as Jesus said, we must even give account for every idle word. Each of us writes a book with our life. Everything we do is recorded. Imagine what it will be like when God begins to page through our memories on Judgment Day.
2 Corinthians 5:10, "For we must all appear before the judgment seat of Christ, so that each one may receive what is due for what he has done in the body, whether good or evil.
Hebrews 10:31, "It is a fearful thing to fall into the hands of the living God."
* A man who inflicts punishment will die, and the punishment will come to an end, but God will never cease to exist, and the punishment which He is capable of inflicting today He will be capable of inflicting forever and ever.
* To fall into His hands, therefore, "for the purpose of punishment" - which is the idea here - is fearful: (1) because He has all power, and can inflict just what punishment He pleases; (2) because He is strictly just, and will inflict the punishment which ought to be inflicted; (3) because He lives forever, and can carry on His purpose of punishment to eternal ages.
* The Almighty will not appear as an injured individual avenging his wrongs but as a righteous Judge administering the law.
Richard Wurmbrand was a Lutheran minister in Rumania during the Communist rule and he was put in prison for his faith by the Communist authorities, two and a half years if which were in solitary confinement.
One day a young keen Communist man was thrown into his cell because the young man had said something with which the State disagreed.
When Wurmbrand introduced himself as a pastor, the young man told him that he wanted nothing to do with Christianity, citing Marx's comment that " religion is the opiate of the people."
So Wurmbrand didn't try to evangelize him. As rations were very meagre in prison, Wurmbrand used to share his bread with the young man.
Slowly over time, they became friends and one day the young man said: "Tell me who is Jesus like".
Wurmbrand replied quietly: "Jesus is like me"
To which the young man replied, "Then I would like to get to know him".
I would never dare to say that Christ is like me. And if I did I very much doubt anyone would want to know Christ when they look at me. But I do pray that the longer I am a Christian the closer I will become to being Christ-like. As Jesus prayed. Thy will not mine be done. How about you?
Series Information